Best Wheelbarrows 2021 | Yard Cart Reviews
5 min read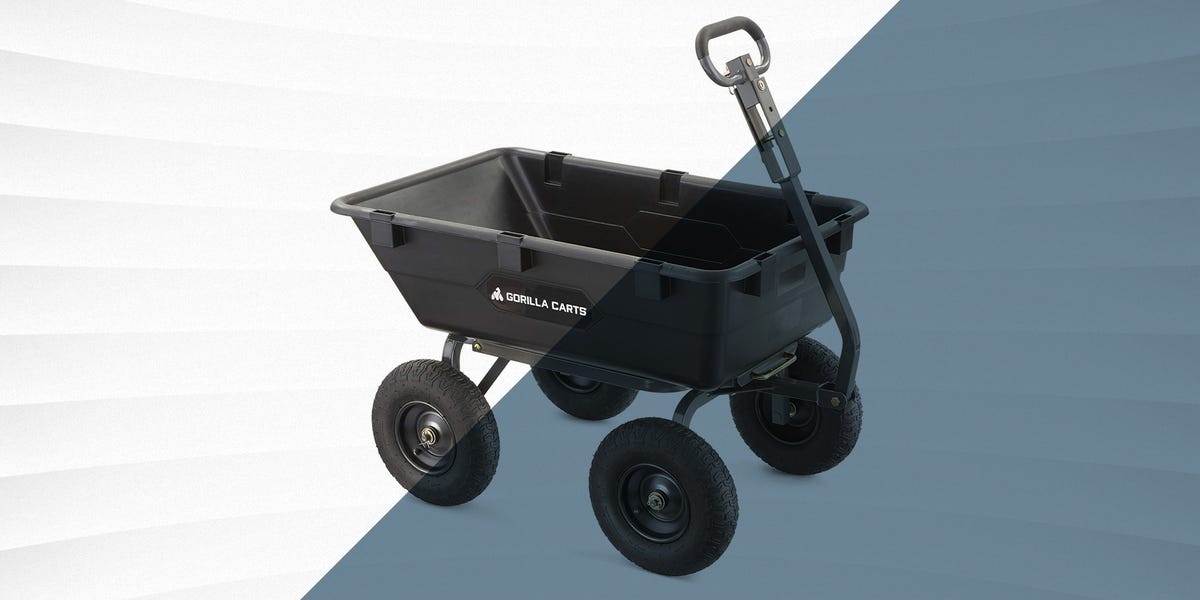 Staff, Courtesy of Gorilla Carts
Wheelbarrows are among the most universally useful tools around. Whether you're a trade professional, serious DIYer, or just someone who likes to cultivate your garden on weekends, you almost certainly have a need for at least one wheelbarrow of some kind. Use yours to haul rocks, transport dirt around your yard, or move concrete from your mixer to wherever it needs to go.
Tame Your Yard: The Best Gardening Tools For Cultivating New Life | Build This Small Garden To Grow a Big Harvest | Tested: The Best Electric and Gas Mowers
What to Consider
When shopping around for wheelbarrows, there are a few things you will want to consider.
Material: Plastic bins tend to be more lightweight but usually aren't the best choice for heavier materials, such as stone or concrete. For those, choose a metal option, instead.
Weight capacity: If you are using the wheelbarrow for gardening and yard work and will mostly be transporting soil, mulch, and leaves, you should be fine with a wheelbarrow that has a lower maximum weight capacity—say, 300 pounds or less. But if you intend to use your wheelbarrow for heavier materials like concrete or stone that could easily weigh a few hundred pounds, you will want to choose a model that can handle the weight of more substantial cargo.
Wheelbarrow weight: Some wheelbarrows can be fairly heavy even when empty, so it's a good idea to think about whether trying to push that weight will be overly strenuous. If you will be hauling lighter materials that can be transported by a lightweight wheelbarrow, you might be able to make things easier on yourself.
How We Evaluated
When evaluating wheelbarrows, we drew on our own experiences using many different types of wheelbarrows over the years. As the co-owner of a construction business for more than 10 years and a hardcore DIYer, I have used wheelbarrows both on the job and at home. I usually have several wheelbarrows in my shed or garage, each with specific functions. My husband and I do a lot of cement projects, so we always have at least one sturdy metal wheelbarrow that can handle heavier loads. But we also like to have a lightweight plastic one that is handy for collecting branches and leaves and is easy to clean without being prone to rust. While selecting, I consulted manufacturer websites for details about each model's weight, capacity, and materials. In addition, I also considered reviews from thousands of users on Amazon.
---
Advertisement – Continue Reading Below
Best for Heavy Loads
Gorilla Carts Heavy-Duty Poly Yard Dump Cart
Gorilla Carts
amazon.com
$204.41
Key Specs
• Weight: 54 lbs
• Capacity: 1200 lbs
• Material: Steel frame and plastic bin
Plastic wheelbarrows typically have a lower maximum weight, but this model definitely defies that rule with an impressive load capacity of 1200 pounds. Its quick-release dumping mechanism (controlled via a lever on the handle) lets you empty loads and finish jobs fast. And you can transition from pulling the cart manually to hooking it up to tow from a tractor or ATV, thanks to the convertible handle.
High maximum weight capacity
Convertible handle allows for manual or automatic towing
Not as lightweight as other options, requires effort to push
Best Plastic Model
Simplay3 Easy Haul
Simplay3
amazon.com
$109.99
Key Specs
• Weight: 24 lbs
• Capacity: 250 lbs
• Material: Plastic frame and bin
This wheelbarrow seems designed especially for those with a green thumb, as it's the perfect choice for light gardening chores. Constructed from heavy-duty plastic, it's durable enough to handled dirty jobs and simple to clean once the work is done. The storage tray is a nice touch and makes it easy to keep supplies handy.
Easy to clean
Storage tray for toting hand tools
Lower maximum weight capacity
Best Value
Gorilla Carts GOR4PS
Key Specs
• Weight: 31 lbs
• Capacity: 600 lbs
• Material: Steel frame and plastic bin
This wheelbarrow offers a lot for a budget-friendly price. It boasts the quick-release dumping technology found in other Gorilla Carts models, so you can zip through tough jobs in no time. The rust-proof and maintenance-free bin means less hassle and longer lifespan. Some Amazon users felt the two-page manual, which features illustrations but no written directions for assembly, could provide more detailed explanations.
Decent weight capacity
Affordable price
Assembly instructions could be more clear
Best for Uneven Terrain
Best Choice Products Wheelbarrow
Best Choice Products
amazon.com
$104.99
Key Specs
• Weight: 29 lbs
• Capacity: 330 lbs
• Material: Steel frame and plastic bin
This is a great all-purpose wheelbarrow that can conveniently transport a wide variety of materials, including mulch and soil. The heavy-duty wheels boast an all-terrain tread that enables this wheelbarrow to navigate rough or uneven surface with ease, and the rubber-coated handle promotes a comfortable grip.
Comfortable handle
Versatile uses
Some Amazon users complained about underinflated tires
Most Versatile
Worx WG050 Aerocart 8-in-1 Yard Cart
Key Specs
• Weight: 49 lbs
• Capacity (as wheelbarrow): 300 lbs
• Material: Metal frame and bin
This wheelbarrow has impressive transformation abilities and is able to quickly morph into a yard cart, extended dolly, and trailer tote, among other things. The manufacturer says it has a "turbo lift" design that employs leverage to make lifting easier so you won't need to exert as much effort even for heavier loads.
Transforms into eight different functions
Uses leverage to make lifting easier
Weight limit not as high as some other wheelbarrows
Most Portable
Allsop Home and Garden WheelEasy LE
Allsop Home and Garden
amazon.com
$139.23
Key Specs
• Weight: 11 lbs
• Capacity: 150 lbs
• Material: Metal frame with vinyl-coated nylon basin
Unlike many other wheelbarrows, this one has a relatively low maximum weight capacity. That would normally be a huge drawback, but the appeal of this sleek, lightweight model is the ability to take it with you anywhere. It weighs under 15 pounds and has a collapsible design so you can stow it in your car or wherever you want to keep it easily accessible.
Lightweight
Foldable design
Best Basic Model
Garden Star 70019
Garden Star
amazon.com
$80.72
Key Specs
• Weight: 20 lbs
• Capacity: 300 lbs
• Material: Plastic frame and bin
If you just need a reliable yet simple wheelbarrow without a lot of bells and whistles (or the higher price tag that tends to go with them), this might be exactly what you're looking for. This wheelbarrow is perfect for gardening and other simple chores. Its lightweight design makes it easy to transport and maneuver.
Easy to assemble
Affordable price
Small size means limited hauling capacity
Best for Kids
TOMY John Deere Steel Wheelbarrow
Key Specs
• Weight: 9 lbs
• Capacity: Not specified
• Material: Steel frame and bin
Anyone who does any sort of yard work or lawn maintenance knows the John Deere name, and this kid-friendly wheelbarrow delivers the durable quality you expect from the name. Yet, it's lightweight enough for young users, and the vinyl hand grips allow for comfortable handling.
Sturdy construction
Perfect size for kids
Users report a tendency to be shaky and unstable when filled
This content is created and maintained by a third party, and imported onto this page to help users provide their email addresses. You may be able to find more information about this and similar content at piano.io
Advertisement – Continue Reading Below